Forty of the Best Villains in Literature appear in this article at The Literary Hub (where you'll find many literary goodies). The villains include the obvious: Mr Hyde, Mrs Danvers, Uriah Heep, Mr Rochester, Dr Frankenstein, Hannibal Lecter and many more. But also the not-so-obvious: Infertility, Vanity, Suburban Ennui and Slavery to name but ten from the forty.
If you'd rather not read about villains (or you've read them all already), here are some of The Literary Hub's recommended literary summer reads. They include: The Perfect Nanny by Leila Slimani, Patrick Melrose by Edward St Aubyn and The Art of the Wasted Day by Patricia Hampl – none of which I've read but all of which I plan to read, particularly the last. You can order any of the books from The Book Depository with free worldwide delivery.
The perfect place to read a book or seven in, and the thing I'd love to have made in a parallel universe where time is infinite and all things are possible is The Buzzardry.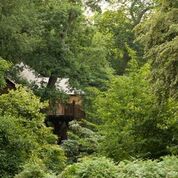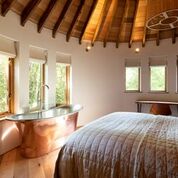 Isn't it beautiful? The rooves alone are things of wonder. It sleeps two couples, it's in the most gloriously secluded location, it's – I think – entirely idyllic and, look, you can even read in the bath and still see the view. Find me something better for a romantic weekend in the woods and I'll eat my hat.
The photographs were taken by Adam Scott, but so recently they're not yet on his website. And you can find out more about (and book to stay in) The Buzzardry here.